About Musicians Christmas
Musicians Christmas is a nonprofit annual event in its 13th year of production.
Founded by Executive Producer Paul Young as an opportunity for local performing artists to enjoy and celebrate the Christmas season together. Hosted at local venues, such as former Molly Blooms Irish Pub, The Harbour Street Fish Bar and the Collingwood Legion, the concept matured over the years and a host group of musicians, Young Krewe became the core of the event featuring many wonderful musicians and artists supported by substantial front of house sound and backline.
As the event became more popular, the list of musicians and artists performing grew as well. Artists including our friend Robert Laidlaw were traveling near and far to participate.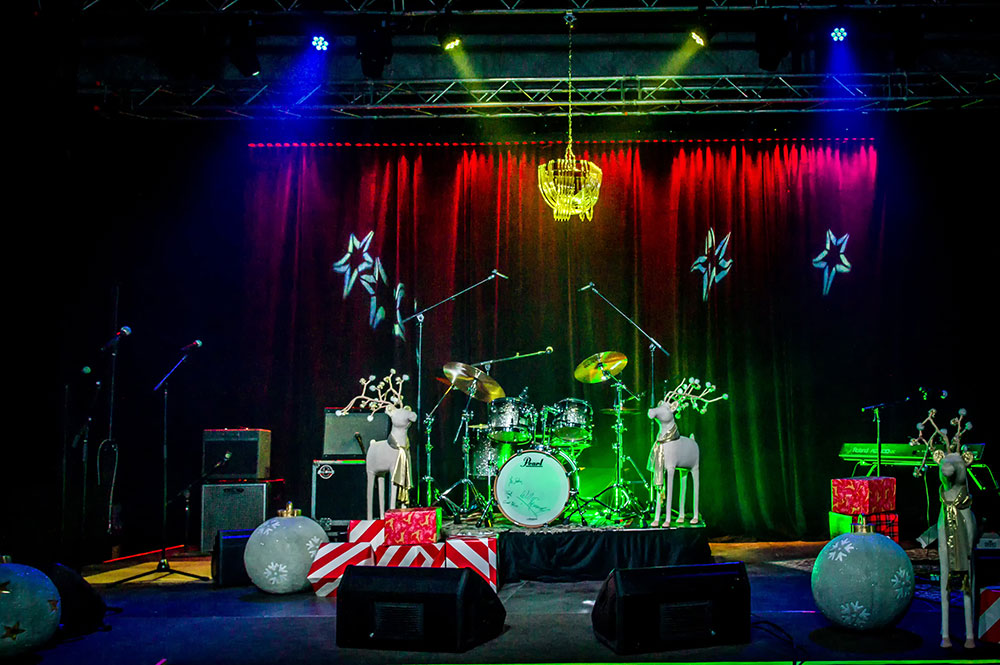 Paul and Krewe decided it was a perfect opportunity to involve the community and to add a local charity fundraising element to the night. Breaking Down Barriers, the Food Bank and The Collingwood General and Marine Hospital Foundation were selected over the years and the event began to receive support from local businesses (such as The Peak FM, Canadian Mist Distillers, Molsons, and Creemore Springs Distillers as well as Cranberry Village, Blue Mountain and Georgian Bay Wines).
Musicians Christmas quickly became an event the community watched out for. Collingwood's own jump bluesband The Gators took over as the core group until the passing of group co-founder Alan Partridge and the participation list was extensive. Performers included: Whitey Somers, Adam Webster, Lee Chomiak, David Rose, Paul Young, Doug Smith, John Curtosi, Paul Jones, HUNNAY, Al Partridge, Alvin Light, Bob Gilbert, Larry Christopher, Robert Laidlaw, Eli Young, Laurie Zwarick, Skip Wamsteeker, Al Pratt, John Eaton, Sasha Law and many more.
With sold out nights and magical Christmas spirit the event grew; The 10th Annual Musicians Christmas partnered with the Peak FM John Nichols Annual Hospital Raffle. The Collingwood Legion donated their hall, and CHS Productions stepped up for sound reinforcement. Featured were Young Krewe with Adam Webster, Skip Wamsteeker, Erik Vanderweerdof, Paul Young plus guests Sheri Weldon and John MacMurchy, Motown and Marley, Andy H, Shipyard Kitchen Party, Andy H, Rob Laidlaw with Young Krewe, the High Road, and Erin McCallum with Young Krewe. Another resounding success doubled our contribution and attendance and we were able to donate $4,000 to the Collingwood General and Marine Hospital Foundation.
Due to Covid 19 , Musicians Christmas 2020 went virtual, all production at the CHS Concert Stage in Collingwood. This wonderful can be seen on our YouTube Channel, a truly magical production. What a privilege to celebrate this special event with you all in your homes! Donations continued to flow in support of our hospital foundation.
In 2022, we returned live at 1812 Grillhouse in Collingwood. Hosted by Young Krewe with emcee Marcia Alderson, guests Robert Laidlaw, Christie Hamilton, Mollie Fisher and surprise Marek Barlow and DJ Andy H, the venue was filled with amazing music, love and generosity. We gathered $5,000 to donate to CGMHF.