In this COVID-challenged world and having been cloistered in Collingwood for almost 10 months, I was reminded this evening of why I love it here.
This is not another COVID-sad story. In fact, there's a lot to be happy about here on southern Georgian Bay where I often say: "A rainy day in Collingwood is better than a sunny day in a lot of other places in the world".
This evening I was reminded time and time and time again of why I love it here. One word sums it up:
Spirit!
Years ago, long before the internet and when the local chamber of commerce promoted our town with glossy brochures and catchy headlines, they used the slogan "Catch Our Spirit!" There were other slogans, but I never forgot that one.
This evening, musician after musician after musician taking part in the annual Musicians Christmas event in Collingwood, brought home that heartfelt spirit. It's the spirit of caring for one another, not just at Christmastime, but at any time of year.
One of the reasons that I stayed in Collingwood was because of the spirit throughout the community. It was half the size then that it is now and throughout town organizations melted with individuals to do anything they could for the good of our town.
In the past decade, the Musicians Christmas has been held on the stage of the hall at Branch 63 of the Royal Canadian Legion. Paul Young, a musician in his own right, has spearheaded this fund-raising event and the proceeds go to the Collingwood General and Marine Hospital.
But Paul, who was the executive producer for this evening's virtual concert did not present this show on his own. There were many other people involved. So many people that I will not name them all. You can find out details at www.musicianschristmas.com and there is still time to make a donation to the hospital via this event's website.
One of the reasons that I stayed in Collingwood was because of the spirit throughout the community. It was half the size then that it is now and throughout town organizations melted with individuals to do anything they could for the good of our town. The Downtown Collingwood Business Improvement Association was born and evolved, ever promoting Collingwood – especially the downtown area – through the decades. In fact, this organization has won awards as the positive spirit of downtown melted into the proud spirit all across our town.
There are people who get paid to do what they love. There are people who volunteer to do things that they love and they don't get paid for it. Sometimes an event is a mix of people getting paid and others who do not get paid. Additionally, there are often sponsors to thank. Thank Heavens for sponsors!
Fortunately for Collingwood, we have lots of people, paid and unpaid, who do lots of good for our community (reminds me of another slogan: "Enjoy The Good In Collingwood!") and Musicians' Christmas doesn't happen just because somebody snapped their fingers. It happens because people from various walks of life, including musicians, put their hearts into it and the spirit happened.
The sound of the spirit made our hearts soar in our living rooms as we watched Musicians' Christmas 2020 air-played to our television. There were recognizable names and voices. There were newcomers to our eyes and ears. Good thing we got a sound bar for our television just a month ago!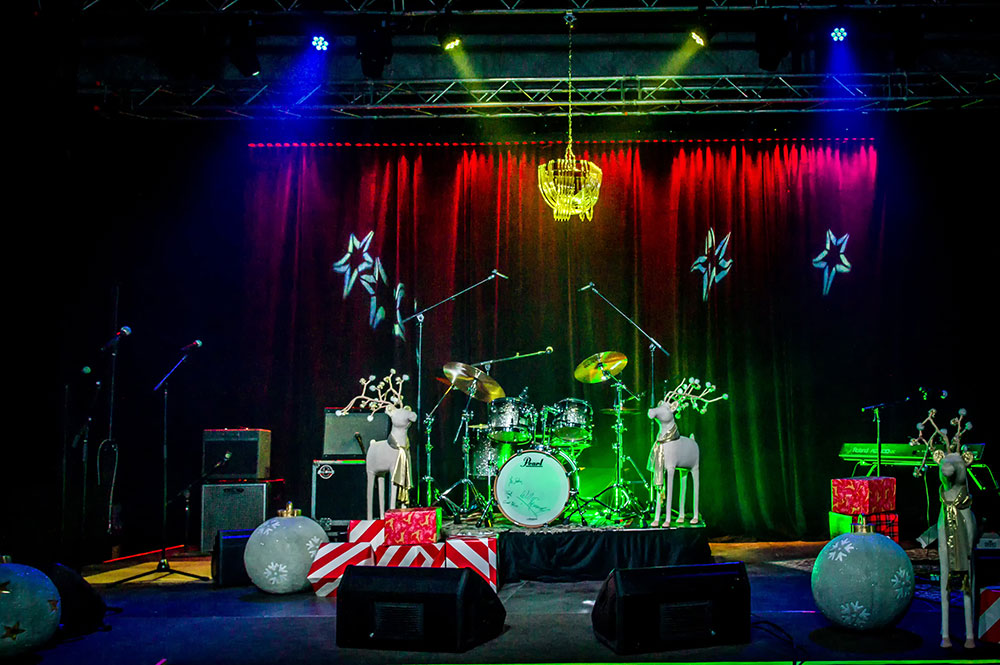 Each performance brought us joy. We tuned in to Motown and Marley – Craig Smith on guitar and Marcia Alderson with powerful vocals and somebody that I don't know (sorry!) playing drum. The spirit was soaring as Marcia swayed to the music. We applauded from our living room. Too bad those performing in the Musicians' Christmas could not hear us!
I haven't seen Chuck Baker performing since Local Live Lunch in Downtown Collingwood. That regular Wednesday lunchtime event brought us musical joy in summer and introduced us to some artists and reintroduced us to others. Oh, how I miss Local Live Lunch, one of the many things that brings spirit – musical spirit – to our town. Oh, how I missed the Great Northern Exhibition, a fantastic fall fair held in Clearview Township. There too, we would get a superb sense of family and musical prowess – as well as an agriculturally-related education – sometimes all combined with musical presentations from GNE stages. There was no GNE this past September, a victim of COVID and while that brought us down, Musicians' Christmas brought us up!
Adam Webster took his turn in the virtual concert and brought us more joy with his vocals and guitar. He finished with a finger-picking Christmas tune. As with when other performers were on stage, Roger Robinson (also a producer) brought the magic of sound-system excellence to bear for the benefit of us all.
The Peak 96.1FM was one of this evening's sponsors. There were others, Collingwood Today and MyCollingwood.ca. I'm sure that Richard Lex and his Simcoe Street Theatre were involved with this evening's virtual concert. I know for a fact that Stuart Snelgrove of Collingwood Today has been a relentless and enthusiastic supporter. In fact, I even saw him on my television screen during the show.
Each performance made us thankful for the Musicians' Christmas event and the void it was filling thanks to the likes of violinist Victoria Yeh and the musical tidal wave of joy from the Shipyard Kitchen Party (Jason Murphy, Sasha Law and John Eaton).
Victoria Yeh's rendition of "Have Yourself A Merry Christmas" brought a tear of happiness to my eyes. Yes, I get emotional when there's joy all around. The Musicians' Christmas was filling our living room with joy. It was also helping to make donations jingle. (Remember, there is still time to make a donation!)
By the time Romney Getty sang and played guitar, the hospital was going to be $2,560 richer. I apologize that I don't know the name of the lady who sang and played with Romney Getty. At the best of times, Romney Getty can bring the house down with her rich voice and guitar-playing. It was a bonus for us who were listening that Romney had somebody accompanying her and it sounded even more terrific! We applauded from our living room.
They brought love into our hearts at a time when our hearts have been heavy with concern for our loved ones and friends that we know.
Paul Young loves music and is executive producer for Musicians' Christmas. It is my hope that he and musicians from Collingwood and area return to present a live event at the Legion hall if circumstances allow at the end of 2021. It is my hope that you, all of you, will support this and the next Musicians' Christmas.
This evening, Paul took to the keyboard and played. He told us to close our eyes as he was "bringing love into your hearts".
Paul did that. So did all the other musicians who performed earlier this evening. Our spirits soared.
They brought love into our hearts at a time when our hearts have been heavy with concern for our loved ones and friends that we know.
These have not been easy times, these nasty-virus times have had us on the ropes. It has not been easy for people who have lost their jobs, or have been earning far less money than usual, or is needed to pay the bills. There were people in this virtual concert this evening who have been affected by the pandemic. Yet, in true Collingwood style, they stepped up and rose to the challenge. They sang and they played to help others. Truly, an example of Christmas spirit, the kind of spirit that brings us the Out Of The Cold program, or the Barbara Weider House, thanks to Home Horizon.
But for not-long-enough this evening Paul Young and other musicians lifted us out of that desperation hole and lifted up our hearts with their respective musical performances. They made us think about helping our hospital and helping others. Their spirit was strong with their performances. We thank them for their work. It reminded me, once again, of why I love to live in Collingwood.
Our spirits must continue to be strong. We are all each other's brothers and sisters in Collingwood and indeed around the world. Music is an international language and this evening Musicians' Christmas spoke to all of us with lyrics and notes and lifted my spirits up.
I hope, dear FB readers, that if you watched Musicians' Christmas, it lifted your spirits up too.
Merry Christmas!
About The Author: George Czerny-Holownia

George, as he prefers to be known, works at retirement which includes writing and photography. His latest book – as of June 2019 – is "Kiss The Ground You Walk On, Canada" which has a sub-title of "The A,B,Cs of how to be a better Canadian". George is a long time supporter of the Arts, Music, and our Community, including Musicians Christmas. Paul Young and George share history of working for the Collingwood Enterprise-Bulletin in the building which later housed Molly Blooms Irish Pub, the original home of Musicians Christmas!